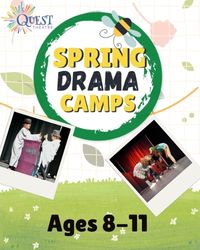 Spring Camp 2023 (Ages 8-11)
When
Runs from Monday March 27 2023 to Monday April 10 2023
All Day Event
Venue
Program Notes
×
Treks (One week camp) for ages 8-11
This camp acknowledges this age group's ability to weave complex stories and build multifaceted relationships. Working together young people are guided to consider others ideas to satisfy the best story outcome. Group support and encouragement often lead to utilizing humour and extreme character exploration. Campers blossom at this age and confidence and group achievement is often a by-product of the fun!
Camp runs from 9am - 4pm Monday through Friday, with drop off starting at 8:30am and pick up going until 4:30pm.