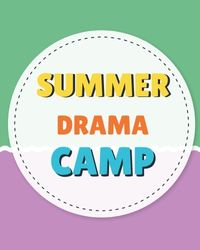 Summer Camp-Expeditions (Ages 12-15) Two Week Camp
When
Runs from Monday July 10 2023 to Friday August 18 2023
All Day Event
Venue
Program Notes
×
Expeditions (Two week camp) for ages 12 - 15 For those campers who LOVE drama and making plays, this two week camp often involves prototyping performance material through writing, improvisation or planned scene work. Campers often come together and overtake or suggest whole plays to instructors whose job is really to gather, encourage and reflect ideas back for further exploration. Nurturing campers' collective vision, giving campers the opportunity to make their own choices, and implementing their own strategies for innovation is the reason these campers and their friends often return year after year.
Fee includes: - Quest Theatre T-Shirt - Drop off from 8.30am - Theatrics from 9am-4pm with a professional theatre artist - Supervised lunchbreak (bring your own packed lunch Mon-Thurs)
Optional Healthy Hunger pre-ordered lunches (additional cost)
Provided Pizza Lunch Fridays (Including a drink, pizza and a snack)
Outdoor time
Daily "Celebrations" (performance sharing at the end of the day for all campers)
After care until 4:30pm (or until 5pm for additional cost)
Performance on the final day of camp for family members to watch
Additional child care is available for an extra fee of $35 per week. (4:30pm - 5:00pm)
Cancellation Policy: Cancellation is permitted (less a $50.00 administration fee) provided notice is given no less than 7 days prior to the first day of class. A $50 administration fee will also be applied if transferred towards another program. No refund will be given with less than 7 days notice unless a doctor's note is provided prior to the start of camp.